2018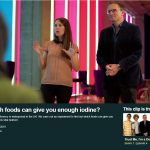 Dr Emilie Combet on BBC Trust Me, I'm a doctor
In January 2018, our group member Dr Emilie Combet was featured on the BBC programme "Trust me, I'm a Doctor". The episode featured a section on iodine and you can watch a clip of the programme.
In June 2016, Professor Margaret Rayman was interviewed on the BBC One programme "The Truth About Healthy Eating". In this programme, Professor Rayman explained that milk-alternative drinks (such as soya or almond) have a lower iodine concentration in relation to cows' milk, which is a very important source of iodine in the UK diet.
Following publication of the Lancet study showing a link between iodine deficiency and child IQ, Dr Bath was interviewed on BBC Breakfast on 22 May 2013. She discusses the findings of the study, as well as dietary sources of iodine.
Dr Bath was also gave live TV interviews for ITV lunchtime news (22/5/13) and BBC World News (22/5/13).
BBC News reported the Lancet study on 22 May 2013. This clip has an interview with Professor Jean Golding, a co-author on the Lancet study and founder of the Avon Longitudinal Study of Parents and Children (ALSPAC), on which the Lancet study was based.
2018
Iodine was featured on BBC Radio 4 as part of their "In Their Element" series in a programme called "Awesome Iodine". Professor Margaret Rayman presented the programme and interviewed a wide range of iodine experts. Our members Professor Alex Stewart, Dr Mark Vanderpump and Dr Sarah Bath were interviewed for the episode. You can listen to the full episode.
2015
The Food Programme on BBC Radio 4 has recently focussed on seaweed and once again, Professor Margaret Rayman was interviewed about the iodine content of seaweed, including a warning about kelp providing excessive iodine. You can hear her part of the interview from 20.26.
2013
The 2013 Lancet paper prompted a feature on iodine on the BBC Radio 4 Inside Health programme, on 25 June 2013. Dr Mark Vanderpump was interviewed for the show and you can listen to that interview from 15.40.
Dr Bath was interviewed by BBC 5 live on the morning of the release of the Lancet paper (22/5/13).
Professor Margaret Rayman was interviewed by a local radio station in Surrey, Eagle Radio, she talks about the importance of iodine and the Lancet paper.
2012

The BBC Radio 4 Food Programme featured seaweed on 6 May 2012 and Professor Margaret Rayman spoke (from 19.38) about the implications of seaweed intake for iodine, including a caution on use of kelp and brown seaweeds.
2011
BBC Radio 4 – Farming Today on 6 July 2011 featured the study by Dr Sarah Bath and Professor Margaret Rayman that found organic milk to have an iodine concentration over 40% lower than non-organic milk. Professor Margaret Rayman was interviewed for the programme.